Zenmuse X7 DL 24mm F2.8 LS ASPH Lens
₨478,000
Note: Due to shortage and currency fluctuation in Pakistan, kindly confirm price and availability before ordering!
Description
DJI Zenmuse X7 DL 24mm F2.8 LS ASPH Lens
Buy DJI Zenmuse X7 DL 24mm F2.8 LS ASPH Lens from us at the best prices DJI Zenmuse X7 DL 24mm F2.8 LS ASPH Lens in Pakistan and enjoy our nationwide free delivery, customers from Karachi, Lahore, Islamabad, Quetta, Peshawar, Multan, Faisalabad, Sialkot, Hyderabad can get deliveries within 24 hours.
DJI Zenmuse X7 DL-S 24mm Specs, Price and Overview in Pakistan
DJI's Zenmuse X7 24mm f/2.8 ASPH ND Lens is compatible with the Zenmuse X7 camera. The aperture opens to f/2.8 at its widest to maximize light passage when shooting in low light conditions or to reduce depth-of-field for augmented bokeh effect. A lens hood and balancing ring are included.
CINEMATIC VISION RISING
The DJI Zenmuse X7 is a compact Super 35 camera that is specifically designed to deliver stunning high-resolution aerial imagery with an integrated gimbal to cater towards high-end professional filmmakers. The Zenmuse X7 is compatible with the DJI Inspire 2 to deliver next-level cinema-quality aerial cinematography. With a 24 megapixel CMOS sensor rated at 14 stops of dynamic range will preserve detail and offers users options of both 6K CinemaDNG and 5.2K AppleProRes with full support for continuous RAW burst shooting at 20 frames per second as well as 24-megapixel stills.
The Zenmuse X7 is designed with the DL-Mount, the world's very first integrated aerial lens mount that allows users to switch between four prime lenses quickly and easily to get the exact shot they envision. On top of the stunning image quality, DJI's new Cinema Colour System will also provide accurate colours for easy post-processing, enabling professionals to reach all new heights and capture aerial scenes like never before possible.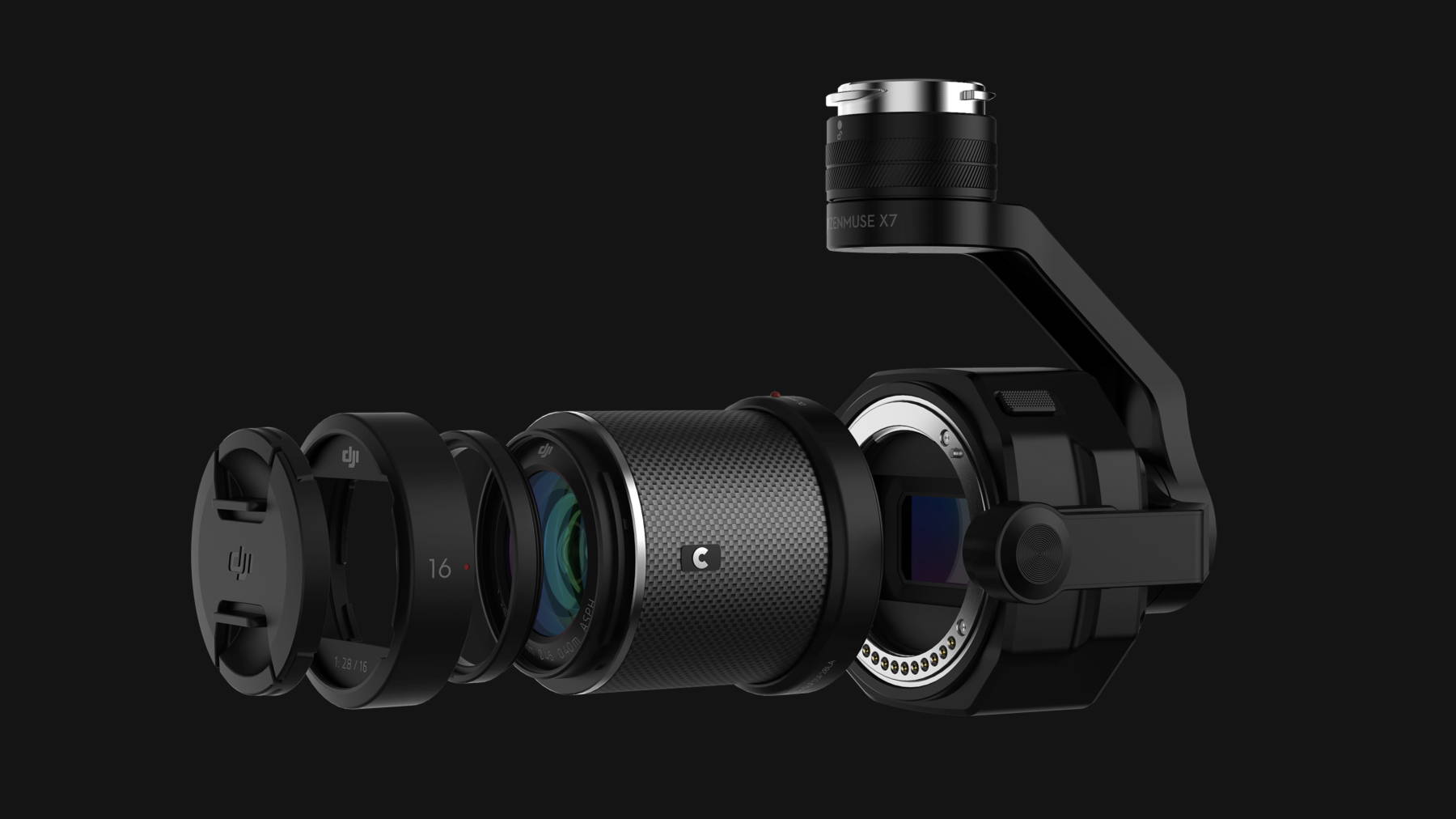 SUPER 35 SENSOR
The Zenmuse X7 is capable of shooting 6K video footage at 30 frames per second and 3.9K at 59.94 frames per second. The X7's Super 35 sensor has a high readout speed and also fully supports RAW output. The large sensor offers 14 stops of dynamic range and a higher sensitivity to light, in comparison to the Zenmuse X5S which has just 12.8 stops of dynamic range. The SNR of the Zenmuse X7 is 46 dN, 8 dN higher than the X5S, and has a tonal range that is up to 9.41 bits. With all of its enhanced features, users will have unlimited creative control and options for an overall improved workflow.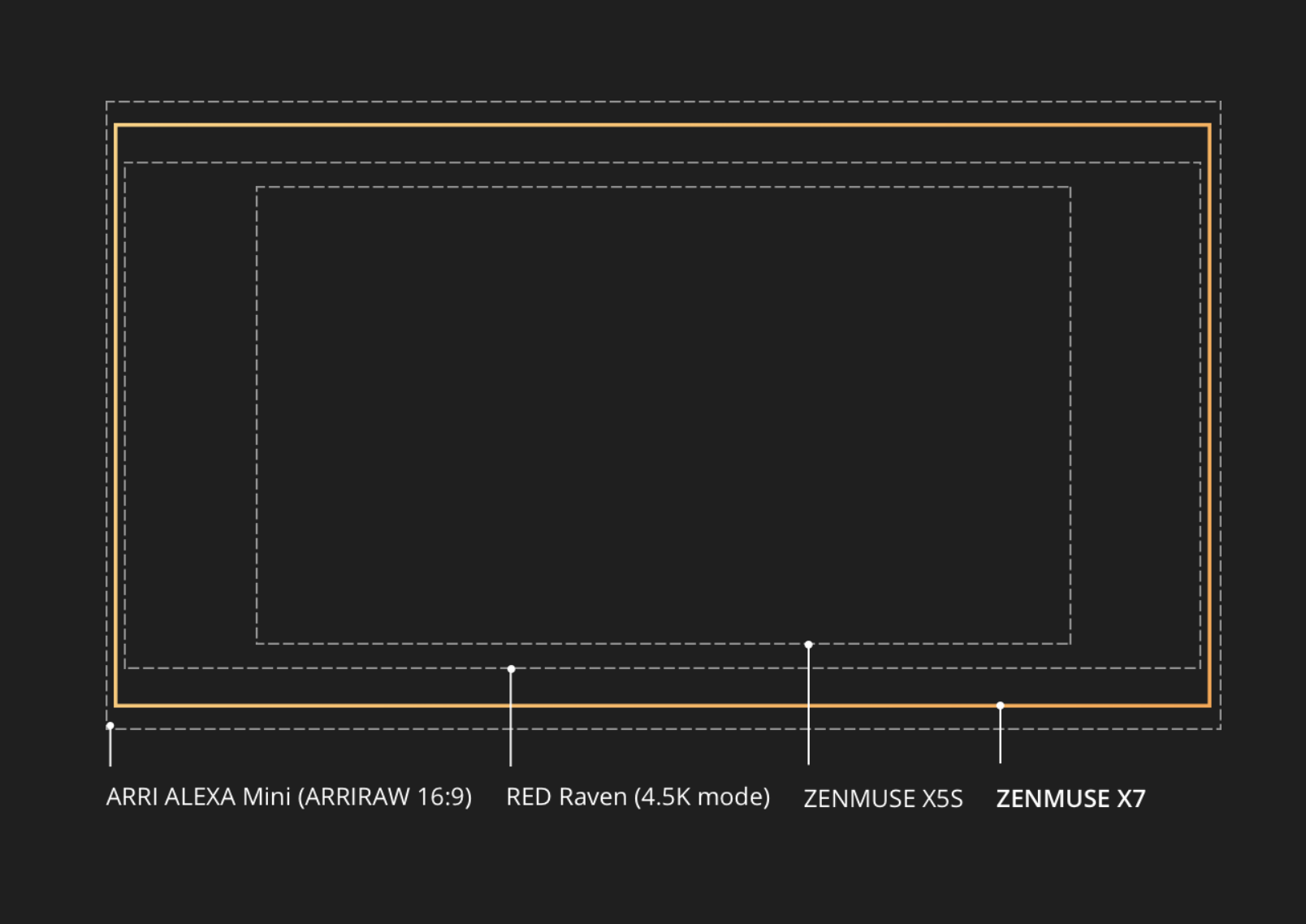 DJI DL-MOUNT SYSTEM
The Zenmuse X7's sensor is designed with a thinner interconnection, enabling light to reach the sensor area through a larger angle for enhanced photosensitivity. This allows the camera to accommodate a more compact lens mount to be equipped on the sensor while maintaining top-tier image quality. The flange focal distance of the DL-mount is also less than 16.84 mm, approximately a third of the size of the PL-mount. Due to such a compact mount, the Zenmuse X7 only weights roughly 630 grams with a lens included. The Inspire 2 equipped with the Zenmuse X7 only weighs approximately 4 kg and can capture the same stunning and sometimes challenging shots of more heavy duty aerial platforms that weight up to 40 kg.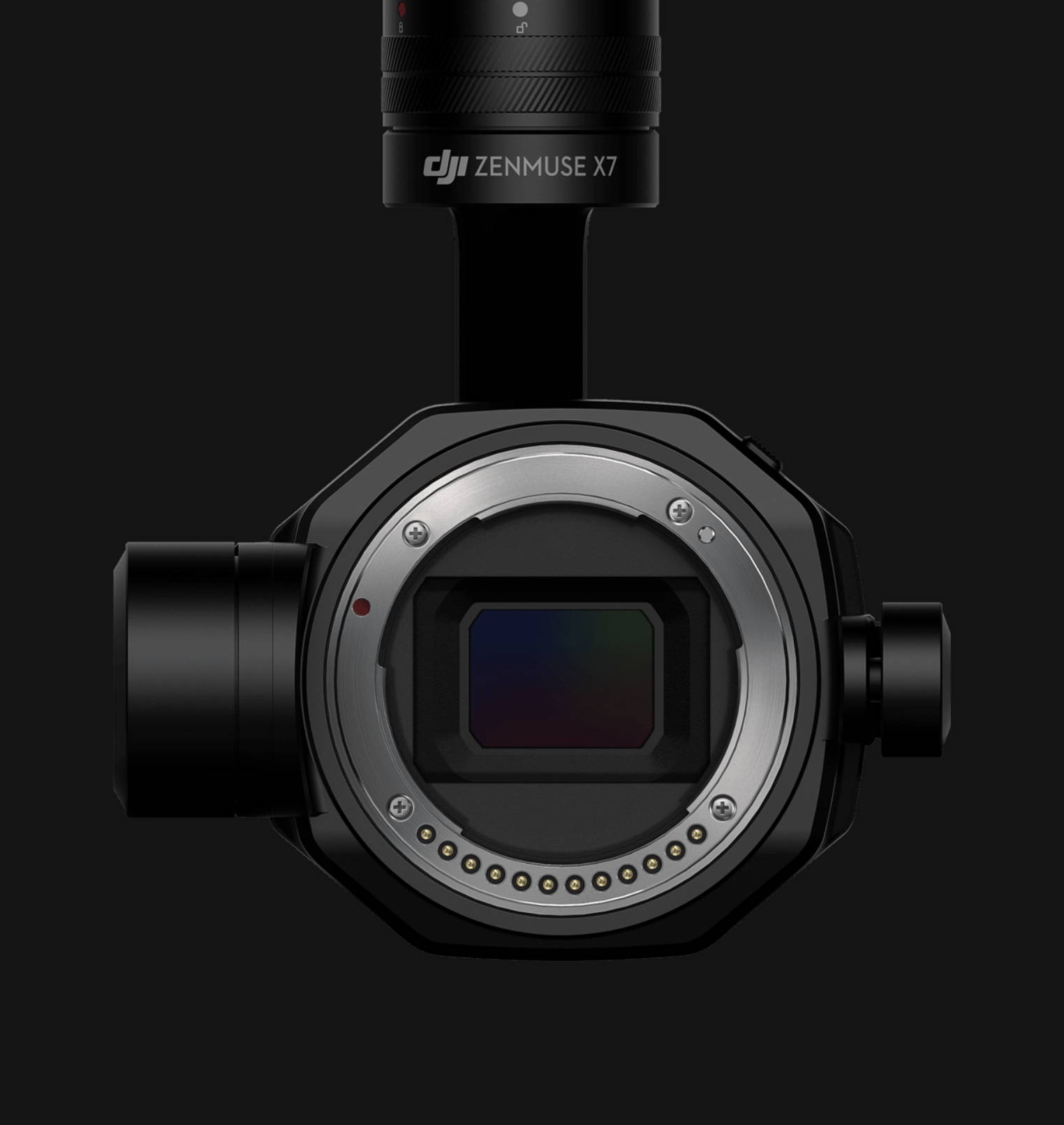 ENHANCED DL LENSES
DJI offers four prime lenses for the DL-Mount system, with focal lengths ranging from 16-50 mm and resolutions of up to 8K. Made of lightweight carbon fiber and designed by world-leading optics teams, the four lenses have been embedded with advanced technologies and crafted specifically for the X7's high-end image sensor.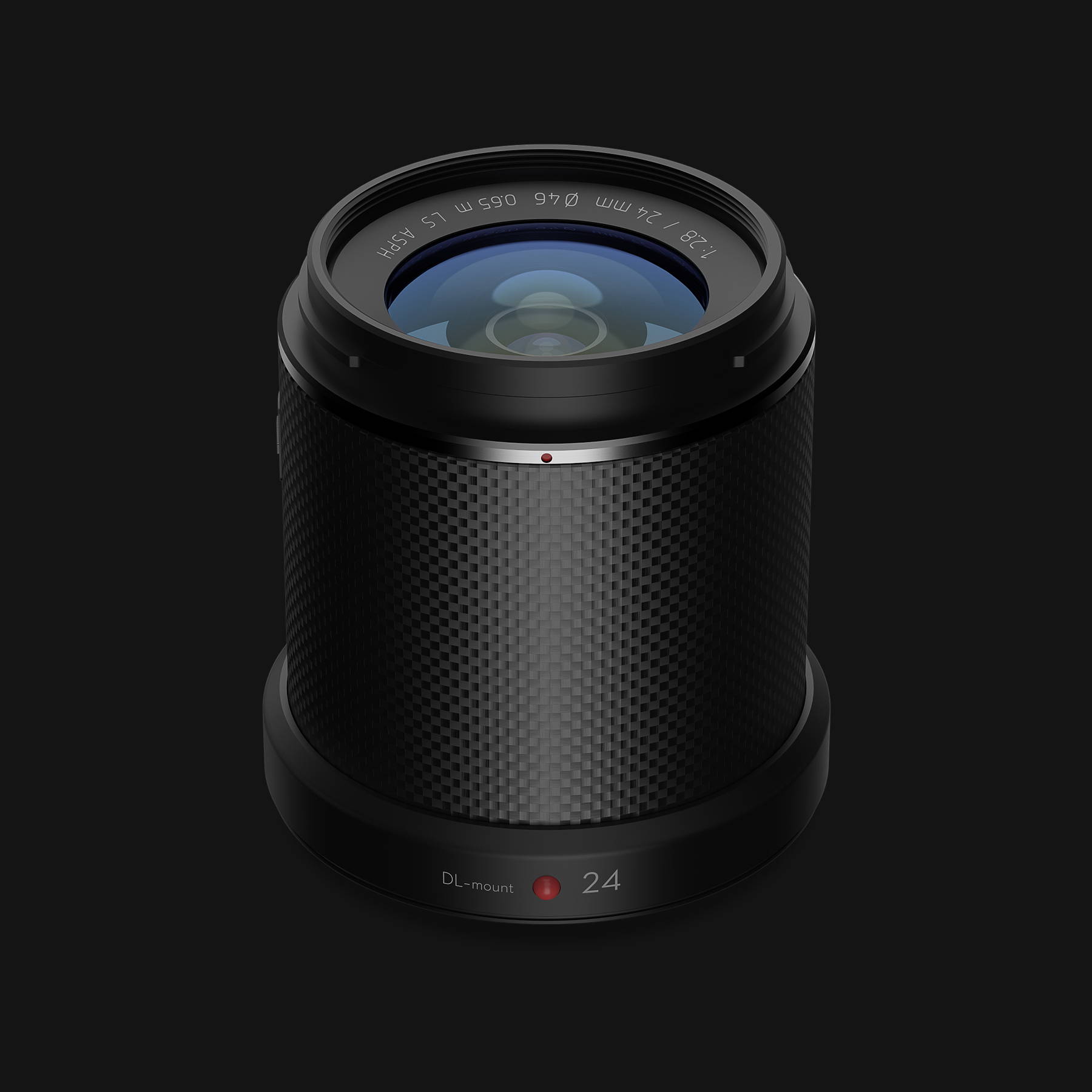 MORE CREATIVE FLEXIBILITY
The CineCore image processing system on the Inspire 2 has been completely upgraded to CineCore 2.1 to unleash the full potential of the Zenmuse X7 camera. For even more creative options in the post-production process, the Zenmuse X7 can record 6K/30fps CinemaDNG and 5.2K/30fps Apple ProRes. A new EI Mode has also been specially integrated into CineCore 2.1 to record high-quality footage at varying levels of sensitivity. The upgraded image processing system also reduces image artifacts and noise to preserve detail while also adopting an improved dark level correction system. The CineCore 2.1 system also features a brand new colour system, for more creative flexibility and control.
ENHANCED COLOUR SYSTEM
A new D-Log curve and a D-Gamut RGB colour space is integrated into the new colour system, to give professionals even more control. The D-Log is capable of encoding 15 stops of dynamic range, and even in poor light conditions, the Zenmuse X7 can maintain stunning detail in highlights and shadows. D-Gamut covers DCI-P3 colour space which is most commonly used in professional filmmaking and is tailored toward aerial photography and cinematography.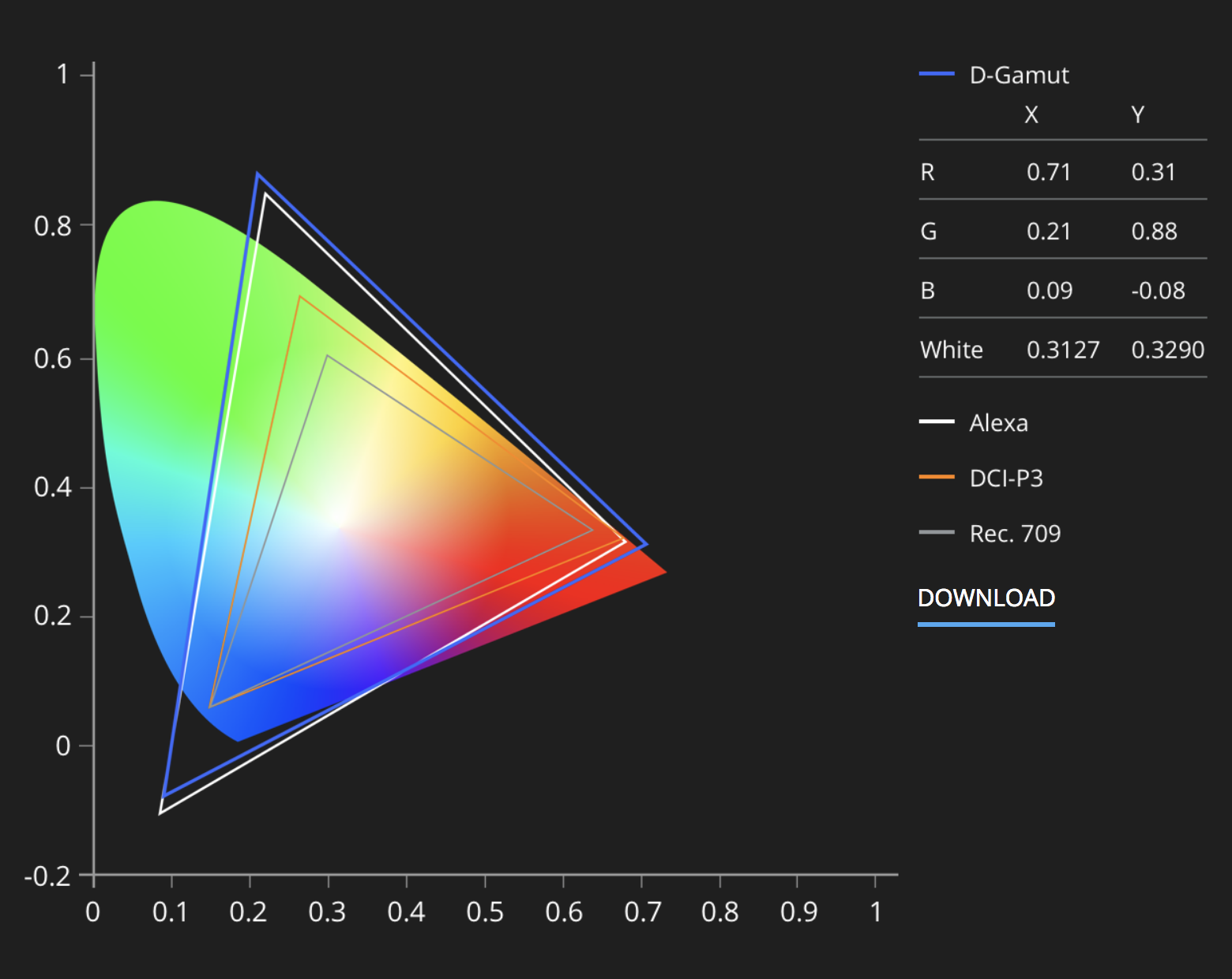 IMPROVED SKIN TONE ADJUSTMENT
D-Gamut additionally offers enhanced skin tone adjustment by moving tones to their most suitable chromaticity. After applying the dedicated 3D-LUTin colour grading, skin tones will softly transition in editing, even with different wide exposures. DJI also considered manual colour grading to prevent skin tones from turning yellow in the editing process without using colour management or 3D-LUT.